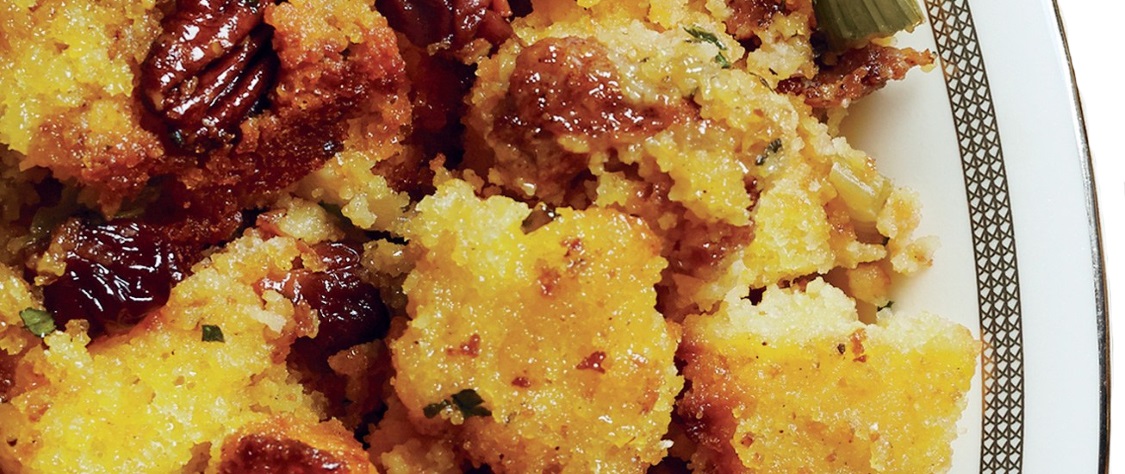 My favorite part of holiday dinners is not the turkey or the ham, but the cornbread dressing. It's been like that for me since my childhood in the rural South. I can't separate my fondness for cornbread dressing from memories of my grandmother, at whose cottage table I ate helping after helping of it every Thanksgiving and Christmas, until she passed away the summer I was nine, and took her recipe with her.
When I married and began preparing holiday meals with my wife, we tried several different cornbread dressing recipes (always cornbread in the South). When we were living in New York City, of all places, we happened upon the one below from Christopher Kimball, in his cookbook The Cook's Bible: The Best Of American Home Cooking. Julie and I agreed that it was the best we'd ever tasted. For most of the 20 Christmases we've been together, we have prepared the dressing below — and we still agree that it's the best part of any holiday meal.
I encourage you to make your cornbread from scratch, instead of from a box. It won't be the end of the world if you use a box mix, but homemade is not hard, and it's so much better. Also, I discovered a couple of years ago the Bavarian spice blend from The Spice House (available by mail order), which is superb on pork and chicken, and can be substituted for the dried thyme and sage in this recipe.
Toasted Cornbread-Pecan Dressing
6 cups coarsely crumbled cornbread
3/4 cup pecans
1/4 pound bacon, cut into 1/2-inch pieces
2 tablespoons butter
2 tablespoons olive oil
2 cups finely chopped onions
3/4 cup finely chopped celery
1 tablespoon fresh thyme leaves or 1 teaspoon dried
1 tablespoon fresh sage, minced, or 1 teaspoon dried
Salt and freshly ground pepper to taste
4 tablespoons bourbon
1 cup chicken stock
1/2 cup minced flat leaf parsley
Heat over to 350F. Spread crumbled cornbread onto a baking sheet. Coarsely chop pecans and add to cornbread. Toast in oven for 25-30 minutes or until cornbread is golden, tossing the crumbs once or twice during toasting. Cool and place in a large mixing bowl.
Cook bacon over medium-high heat in a saute pan of skillet. Remove bacon with a slotted spoon to bowl with cornbread and pour off all but 1 tablespoon of drippings (mmm…bacon drippings). Add butter and olive oil to skillet and when butter has melted add onion and saute for 5 minutes over medium heat. Add celery and saute another three minutes. Stir in thyme and sage and salt and pepper to taste. Add to cornbread.
Turn up heat under saute pan and add bourbon. Stir vigorously for 2 minutes with a wooden spoon, scraping the bottom of the pan. Add chicken stock, cook for 1 minute, and add mixture to bowl. Add parsley to bowl and adjust seasonings.

About the Author

Rod Dreher is an American writer and editor. He is a senior editor and blogger at The American Conservative and author of several books, including How Dante Can Save Your Life.