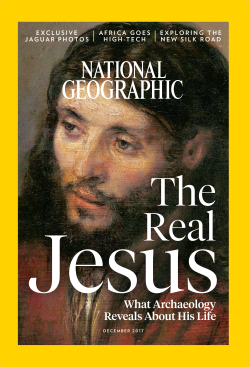 "Wait a second," he said suddenly, as we stood up to say goodbye after a happy Christmas Eve dinner. "I'm done with this and you may find it interesting." It was the December issue of National Geographic, its cover presenting a painting of Christ by Rembrandt, and a headline that read, "THE REAL JESUS: What Archaeology Reveals About His Life."
Of course I thanked my son-in-law, a truly great guy, whose parents had passed the magazine on to him, while at the same time thinking to myself: "I already know what archaeology 'reveals' about his life, and that is absolutely nothing!"
Like any science, archaeology deals primarily with what is typical, with what is general, and if possible with what is universal: how the animals were sheltered, what fuel was used for cooking, diverse building materials, and so on. It makes generalizations about how people usually lived and acted, and as the author of the article (an archaeologist and journalist) readily admits, her science does not normally make claims about the actions of any specific individual: "searching an ancient landscape for shards of a single life feels like a fool's errand."
Let us think, for example, of Socrates, a most exceptional citizen of ancient Athens, whose life and deeds could hardly be anticipated or inferred from a study of the typical Athenian, and about whom our knowledge comes almost entirely from personal protocols. (Fortunately we have three of them: from Plato, Xenophon, and Aristophanes).
But what if beyond this an individual is not merely extraordinary, but might just be God Incarnate, and thus by definition someone sui generis, an exception to any and all possible rules? Then all bets would be off. Who knows? Maybe such a person would quite atypically walk on water or multiply loaves and fishes in geometrically increasing quantities or even raise the dead? In such a case, we would have to rely on some one or more protocols to have any knowledge about such a unique individual—which in fact we already have in the four Gospels.
It is a bit embarrassing to write such evident and even obvious things. But they must not be entirely obvious or even evident to large numbers of people today, or else we would not be the target of the usual holiday headlines and endless TV documentaries telling us what science reveals about "the real Jesus."
And to be honest, the article is not without some value. Its author, who does not write as a believer, emphasizes that the wild claims coming from the skeptics—claims, for example, that Jesus never existed—are based upon neither archaeology nor any other science. She even quotes one scholar as pointing out that he "can think of no other example who fits into their time and place so well [as Jesus Christ] but [who] people say doesn't exist"—suggesting to this reader the unsurprising possibility that some people very much want Jesus not to have existed.
She points out that archaeology finds there is no reason to believe that Jesus was born in Bethlehem. But no particular reason to believe that he wasn't, either. And so on down the line with many other attributions about "the real Jesus."
Perhaps the two choicest nuggets in the article report an excavation showing there was at least one synagogue in ancient Galilee—thwarting those who insist that Jesus could not have frequented non-existent synagogues—and the discovery of a Jewish cemetery, contemporary with Christ, beneath the Church of the Resurrection, where tradition says he was crucified and buried. (And rose from the dead, the part archaeology has to leave out.) Good stuff to know, I suppose.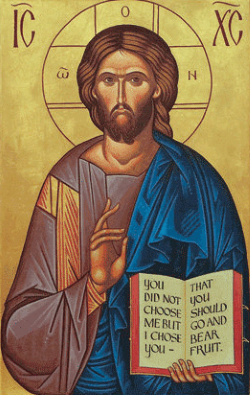 But why "the Real Jesus"? Doesn't this mean that we don't already have the real Jesus in the Gospels? And why seek him in scientific findings, even presenting them as "Revelations" in the headlines? Doesn't this mean that today we need to manufacture new revelations, better suited to our modern fancy for quantifiable data, rather than depth and mystery? Doesn't this mindset remain waiting stubbornly outside the cave, ignoring the angel who tells us that we will not find him here?
But science is for us, as the philosopher Heidegger put it, "the theory of the real." So let's try a thought experiment, as philosophers and jurists are prone to do. Let's imagine that in a distant future, or perhaps somehow even next week, we learn about powerful scientific evidence that a first-century rabbi taught for three years, gained quite a following, produced many miracles, and was executed in Jerusalem during Passover, although his body disappeared without a trace, while at the same time many sensible witnesses claimed to have seen him and spoken with him and even dined with him.
Would anyone, after reading about all this in the National Geographic Society magazine, fall upon his knees in worship and adoration? Even one? Or would that typical reader instead just say: "Huh. Wonder what that was all about." Just as so many of Christ's contemporaries chose to do.
On the other hand: I remember vividly a conversation with an Athonite monk, in which I told him about a mutual friend who was having difficulty accepting the Resurrection of Christ. Without hesitation, he replied in a deeply sincere and utterly ingenuous manner, without a hint of irony: "Oh just tell her I can vouch that it's real—I've experienced it myself!" And I'm sure he had.
I remember too my first visit to the Church of the Resurrection, waiting in a long line in that most venerable place that our earth has to boast, and crawling into the empty tomb with fear and trembling. When my few seconds were up, I came out smiling from ear to ear, my heart leaping with joy, and without thinking said to the woman next in line, as if it was the hottest news in the world: "Christ in Risen!" She smiled and nodded knowingly and seconded my proclamation in a language I could not discern, but certainly saying something to the effect that "Truly He is Risen!"
Seek him in your prayers, in the reading of scripture, in the faces of the needy, and above all in the Holy Mysteries. And if you are blessed to be there, in the empty tomb itself. Oh, and if you're waiting to see the doctor or get your hair cut and you see the December issue lying around, why not take a look? It has some nice maps and a collage of portraits of our Lord painted by famous artists and even a few iconographers. Just don't expect to find Him there.

About the Author



Bruce Seraphim Foltz taught Philosophy at Eckerd College in St. Petersburg, Florida, and served as Founding President of the International Association for Environmental Philosophy. He is the author of Inhabiting the Earth: Heidegger, Environmental Ethics, and the Metaphysics of Nature (Humanities Press) and The Noetics of Nature: Environmental Philosophy and the Holy Beauty of the Visible (Fordham University Press), as well as coeditor of Toward an Ecology of Transfiguration: Orthodox Christian Perspectives on Environment, Nature, and Creation (Fordham University Press).