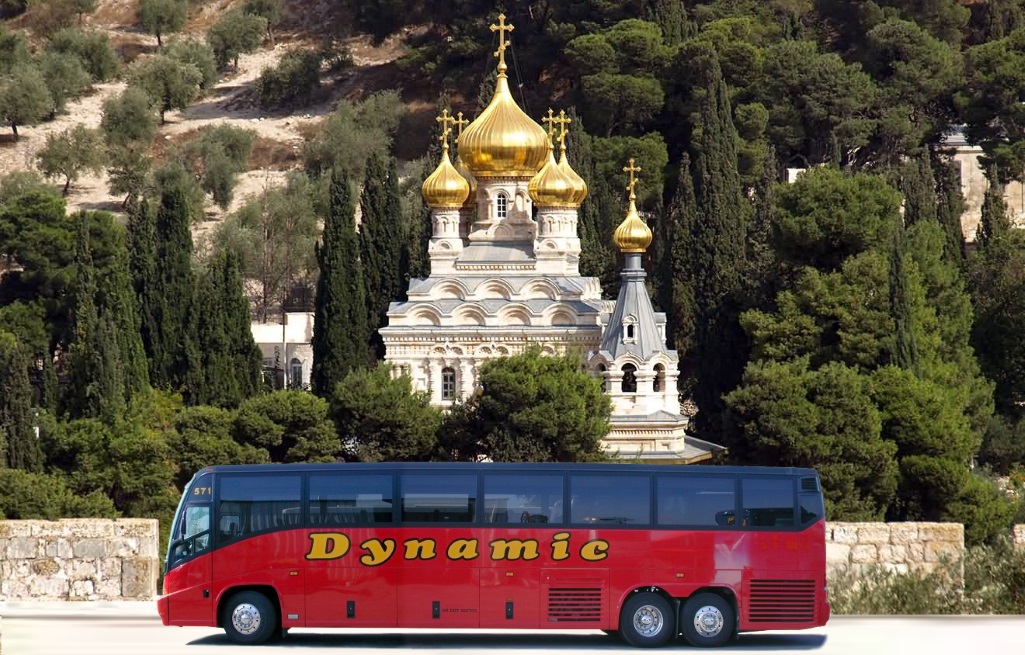 Source: Orthodox Christianity. Reprinted with permission.
By Olga Rozhneva
Marina was shivering and reached for her warm sweater—the air conditioner was blasting. True, it was much more comfortable in the new Israeli bus than in the former, shabby Egyptian one, where even the seat backs were broken and wouldn't stay upright.
Regina the tour guide, a heavy, tall blonde, announced things here and there through the loudspeaker, smiling gapingly all the while, exposing her enormous, snow-white teeth. But Marina barely listened to her; she knew a lot about the Holy Land and could probably have conducted the tour herself.
On the other shore of the sea, Jordan beckoned all with its multitude of lights. Marina took out her Psalter and began reading it slowly—it was wonderful to pray during such a trip. This trip attracted her with its opportunity to visit the Holy Land amidst a vacation in Egypt, and see with her own eyes the Garden of Gethsemane, the Lord's Sepulcher, and the Basilica of the Resurrection of Christ.
"Mom, we're going to stop at the cosmetics store by the Dead Sea. Give me some money! And put away that book—you didn't come here to read, did you?"
Marina sighed. Her daughter Katya had certainly not come to see the holy places, but only for the sake of a vacation on the beach. She wanted to see what the advertising brochure claimed: the beauty of the Nile at high water and the green, washed fields, millennia-old Egyptian villages hiding in the shade of palms from the scorching sun, and the colorful underwater world of Hurghada.
But so far Katya didn't like anything—neither the peculiar smell of the Dead Sea, nor its oily water gave her any joy, nor did the prospect of seeing holy places.
Just before the trip, Marina's neighbor, Tamara had even said to her, "Why did you spend so much money on that trip?! The Holy Land… What use is that faith of yours, Marinka?! What was the point of dragging yourself to church all these years?! Did you get rich? Or healthy? And you gave your daughter no peace, dragging her along! But our children are smarter than we are. Look at Katya—she's grown up, graduated from the institute, gotten smarter… and she's stopped going with you to church! My Tanya has never been to church and she doesn't go now, but your daughter spent her whole childhood there—and now she doesn't go! What was the point in taking her there in the first place?…"
Now Marina herself was thinking, "I guess it really was all for nothing…"
Her daughter had distanced herself from her lately. Marina couldn't remember the last time they had sat together like before, hand in hand, telling each other their innermost thoughts.
All for nothing… The Christmas parties, the homemade mangers, and the children's plays… And those marvelous evenings when they would rush to Vigil; the snowstorms blew and she wrapped Katiusha in her thick shawl… and then they found themselves in the coziness and warmth of their beloved church, where multi-colored oil lamps flickered soothingly, and the fragrance of incense wafted, and the saints greeted them from the icons like family… In the window was the snow, but here was a refuge from all winds and storms—both of winter and of life. A refuge. The ark of salvation. She could feel this even now. Why has her daughter squandered this feeling; why has she lost her strong, childhood faith?
Marina did not know the answer to this question. She had read once in the holy fathers a consoling thought: A child who was raised in the faith will in difficult life circumstances know where the door is to salvation. This comforted her a little. But not completely.
The bus engine shuddered softly and then died. The colorful clatch of well-dressed women flitted by; they were all headed for the shop to buy cosmetics made of salts and mud from the Dead Sea. Marina stepped out, stretched her legs, and stood by the bus.
They all returned dissatisfied. The entire array of merchandise could easily be purchased in Moscow specialty stores for at a much lower price.
Katya didn't buy anything. She sat silently staring at the lights of Jordan, lost in her thoughts.
Marina again sighed. She should have gone with a pilgrimage group instead of a tour… The tourists in the bus were chatting loudly, showing each other their purchases—bars of soap for ten dollars and other useful acquisitions—and practically ignored Regina. The latter raised her voice, trying to capture their attention.
"On the panoramic square of the Mount of Olives, where we'll make our first stop, Jerusalem can be seen like the palm of your hand. We will also visit the monastery of St. Mary Magdalene, which is situated on the Mount of Olives (Eleon) in the Garden of Gethsemane. In this monastery are the relics of New Martyr Grand Duchess Elizabeth Feodorovna and her cell attendant Nun Barbara."
A girl sitting in the back yelled, "Is that a men's or a women's monastery?"
"Women's"
In the front a sarcastic male bass voice commented, "Please take the girl to a men's monastery. Me and Kolya are just fine with a convent! Are the nuns there pretty? Will they be happy to see a couple of men in the prime of life?"
Marina felt the blood rush to her cheeks. She wanted to say something to these young men to dampen their playful mood, so that they would at least try to feel the grace of these places. She wanted to say that one should even travel here with prayer. But she kept silent. She looked at her daughter—Katya was wincing. It was clear that she didn't like those guys' mocking tone either.

"And who's Mary Magdalene?"
Regina smiled once again with her broad professional smile, displaying her huge teeth, and replied, "The nuns are definitely pretty! And Mary Magdalene—don't you know? That's Christ's wife!"
Marina blew up. She looked around and saw that the passengers were smiling and the guys in the front were laughing. Marina began to rise from her seat to say… She didn't know what she would say, she only knew that she had to, she was obligated to somehow put an end to that laughter, those smiles, and put down that blasphemy against the Lord.
Suddenly she heard the ringing voice of her daughter:
"Don't you dare! Don't you dare to talk like that in my presence! I forbid you! Mary Magdalene was a Myrrh Bearer, a disciple of our Lord Jesus Christ! That's who she is!"
Katya stood full upright and glared at each of the laughing passengers with such authority that their laughter quit in a flash. No one dared protest—the girl had such power and authority in her words and gaze at that moment.
The wind had gone out of Regina's sails; she stopped smiling and sat down in her seat. The young guys also fell silent.
Katya stood for another minute and sat down. In the bus, total silence reigned. Only the rustle of tires on the highway and the wind breaking against the smooth-sailing bus could be heard.
Marina took her daughter's hand in her own; she was trembling a little. Marina moved closer and hugged Katyiusha, who in turn pressed herself close to her mother, then placed her head on her shoulder. When Marina had almost completely calmed down, Katya quietly uttered in her ear, "Mom, you know, when we get home we'll go to church again! Don't think I don't remember—Christmas, and the oil lamps, and how we went to Communion—everything! I don't know why I haven't gone to church in so long… I swear, it's like I went dark… But I just told them everything on my mind and now I understand—I believe like I always did before! It's as if some fog dispersed in my head and everything is clear now!"
Marina thought to herself, "My daughter, that's because you confessed our Lord Jesus Christ. And you did it more boldly than I could have done myself…"
That is what she thought, but she said aloud, "Of course, we'll go again together!"
Regina again started telling the passengers something loudly, as the latter began chatting again to each other. The bus sped onward, to the Holy Land, and Marina and her daughter continued sitting there, their hands locked steadfastly in one another's.
Translated by Nun Cornelia (Rees)

About the Author

Olga Rozhneva lives in Russia and writes on topics regarding the Orthodox Christian faith. You can read other articles she authored on the Orthodox Christianity website.