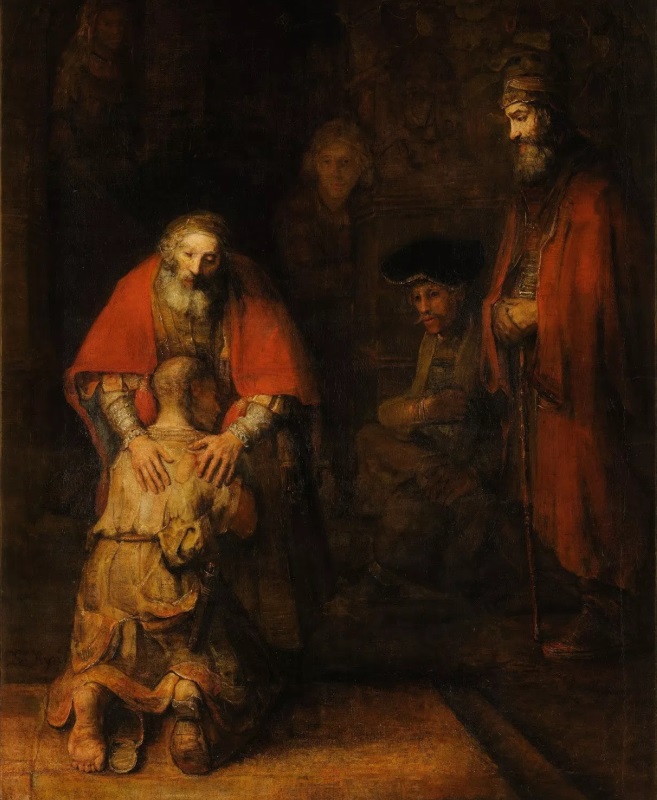 It was not so dark the last I looked;
the stars there were could still be counted,
and the moon was a frail lost ship,
not the queen she is now of this indigo ocean.
Off there, so far away I can only believe,
maidservants are lighting the porches
as brother with his staff drives home the herds
where Father wept when I begged
to go free.
He would not know me now,
a swine-man's boy
stripped of robe and ring,
and his body man would look away,
then meet me from ground to the knee.
Still, I will go while this darkness wears
the memory of his eyes as a harbor
and run through the shadows
to that glittering port
where the least of his servants are free.
I see him now as last I saw him
on the way I left and am now returning,
running to meet me as the first strobes of sun
throw off every shadow between us.
Sunday of the Prodigal (1999)
Second of the four-week cycle prior to Great Lent

About the Author

Mary Lowell is founder and manager of Hexaemeron, a 501c (3) non-profit organization dedicated to sacred arts education. Established in 2003, Hexaemeron has provided training in icon painting for hundreds of students and has recently added courses in ecclesiastical pictorial embroidery. The addition of courses in icon carving (wood and stone) and the mosaic medium is planned for the 2013 season. Although Hexaemeron has been an itinerant school of sacred arts for nearly a decade, it has long been Mary's goal to create a fully operating apprenticeship program in a fixed location.