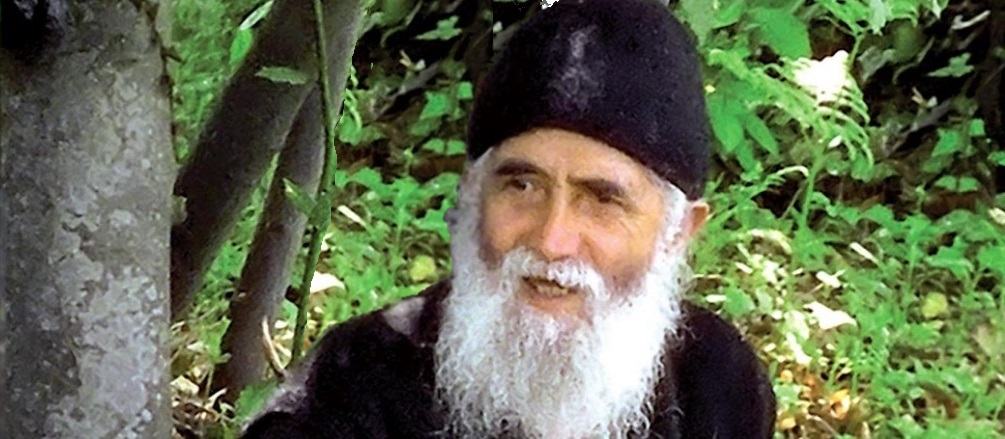 I held off talking about this miracle by Elder Paisios publicly until the miracle was complete, which it nearly is. I was asked to write an account of the miracle to be included in the papers sent to the Ecumenical Patriarchate where a decision will be made soon on the canonization of Elder Paisios as a Saint. I offer it here for the glory of God and the edification of the reader.
[Editor's Note: July 9, 2015. Elder Paisios is now St. Paisios of Mt. Athos. He was canonized January 13, 2015 and his feast day is celebrated on July 12. Learn more about St. Paisios on Orthodox Wiki.]

December 18, 2013
Naples, Florida USA
Early morning on April 2, 2013 I looked down at my phone and saw a text from Jeremiah's mother Patti, "Jeremiah was in a bad car accident. We are on the way to the hospital." Jeremiah was 23 years old at the time. She had just received the news from the police who came to her door to tell her.
I rushed to the hospital. Soon the rest of Jeremiah's family arrived and we got the news. It did not look good. Jeremiah's car hit the curb, rolled three times, and the paramedics found him sitting outside the car barely conscious. He had multiple skull fractures, slipped into unconsciousness and was laying on the gurney in the emergency room.
I told the family that this was a desperate time but in desperate times we pray and we are going to ask God to save Jeremiah. Then we prayed and I anointed Jeremiah with oil. It was foggy that morning so the helicopter could not fly Jeremiah to the trauma center in nearby Fort Myers. They drove him instead.
The next three days were touch and go. We did not know if Jeremiah was going to live. Meanwhile, Dimitri, a friend of Jeremiah's in Greece heard about the accident and told Jeremiah's sister Emily about Elder Paisios, particularly how the Elder helped many young people in car accidents in Greece who suffered brain injuries.
Dimitri told Emily what to do. Get a picture of Elder Paisios (Dimitri sent one by email) and put it in his hospital room and ask for his direct intercession. I pinned the picture on the bed near the side of Jeremiah's head that was injured. We started to ask for the Elder's intercession on Jeremiah's behalf to God. A week later the oil arrived that Dimitri sent from the monastery where the Elder spent his last days in Greece and we anointed Jeremiah with it. Through Dimitri, Elder Paisios came to us.
Thousands of prayers were said for Jeremiah and we added ours to them. I could tell the day that Elder Paisios joined in, or at least when I became aware he was with us. It was as if the weight of the prayers lifted somehow, something I call "calling in the cavalry" – an American term that means that we are joined by fighters on horseback who sit higher and see the battlefield more clearly and make the prospect of victory tangible. This happened on the third day. We could sense the Elder's presence and strength with us. Some nurses remarked they could feel a power in Jeremiah's room.
We prayed and anointed Jeremiah daily. This was a particularly difficult time for his family but hope did not wane even though there were times of doubt and exhaustion. Jeremiah was in an induced coma for five weeks to give his brain time to heal and we waited with great anticipation for his return to consciousness so that we could get a sense of the extent of his injuries and healing.
Finally the time came to wean him off his medication. It would take three days for the sedation to clear his body. On the third day Jeremiah's awareness returned. A test of a person's brain function after a serious injury is whether he can respond to commands. As I entered the room I asked Jeremiah to give me a "thumbs up." He lifted his thumb. Then I asked him to make his cross. He made it. We knew then that we might be witnessing a miracle.
Recovery was steady and after a few months Jeremiah was released from the hospital and went to the Shepherd Center in Atlanta, Georgia (a hospital specializing in brain injuries). There the doctors openly said that his survival and the extent of his healing was a miracle. On August 15, 2013 the portion of his skull that was removed a few days after his accident (to allow the brain to swell) was reattached. The surgeon told Jeremiah that 95% of his patients who had the kind of injury that he experienced do not survive. The other 5% another doctor told me are usually institutionalized for the rest of their lives.
Today (December 18, 2013) Jeremiah is fishing off the Gulf of Mexico with his friends. His healing is almost complete. We expect a full and complete recovery.
We are filled with gratitude to God and His servant Elder Paisios for Jeremiah's healing. We are grateful for the self-revelation of God to the family and friends of Jeremiah –- an event that exceeds our comprehension to grasp entirely but which we see in countless ways. Our Lord has touched hundreds of lives and some have been changed.
May God be glorified in all things.
About the Author