Source: Russian Faith
As someone who grew up the son of Evangelicals, Fr. Andrew has firsthand experience with discovering the Orthodox faith–and his excitement about it comes shining through in whenever he speaks.
Damick is a great speaker and apologist, famous for his blog, his podcast, and his book Orthodoxy and Heterodoxy, which we highly recommend.
Truly, only this outstanding priest can make an introduction to the Orthodox Christian Church so short, so inspiring, so energetic, warm and welcoming.

About the Author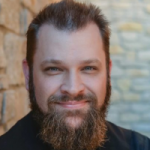 The Very Rev. Archpriest Andrew Stephen Damick is pastor of St. Paul Orthodox Church of Emmaus, Pennsylvania, author of "Orthodoxy and Heterodoxy," "Bearing God" and "An Introduction to God." He is also host of the Amon Sûl, Orthodoxy and Heterodoxy and Roads from Emmaus podcasts on Ancient Faith Radio, co-host of the Areopagus podcast, and he is a frequent speaker at lectures and retreats both in parishes and in other settings.