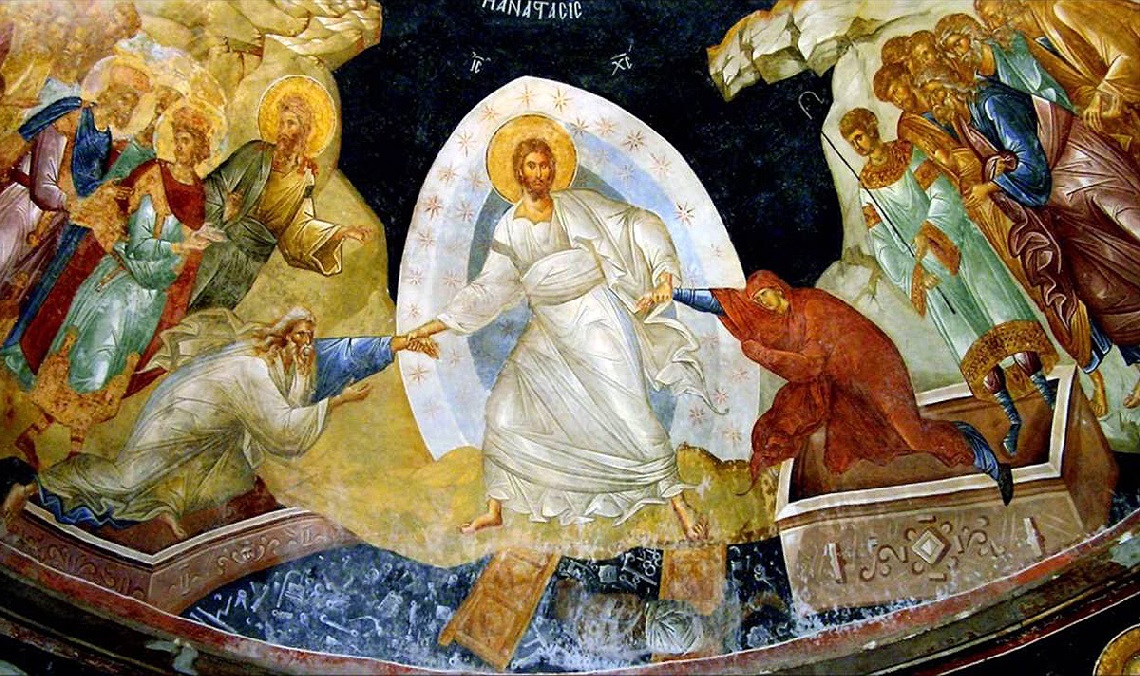 Unlike the English term Easter, which evokes the Teutonic spring-goddess Ostara or Eastra, the Greek word Pascha is a direct transliteration of the Aramaic pascha, which in turn renders the Hebrew pesach, meaning Passover. St Porphyrios explains here in simple, but compelling language how Christ Himself has become our true Passover from darkness into light, from sin and death into life—how His Resurrection has accomplished "the most important thing in [our] life and in the life of the entire universe." And in this way, he tells us why, like kid-goats in the exuberance of spring, we should leap and frolic with joy as the light of this incomparable event dawns upon us!

The Elder Porphyrios once asked a pilgrim visiting him:
— Do you know the troparion that begins, "We celebrate the slaying of death …"?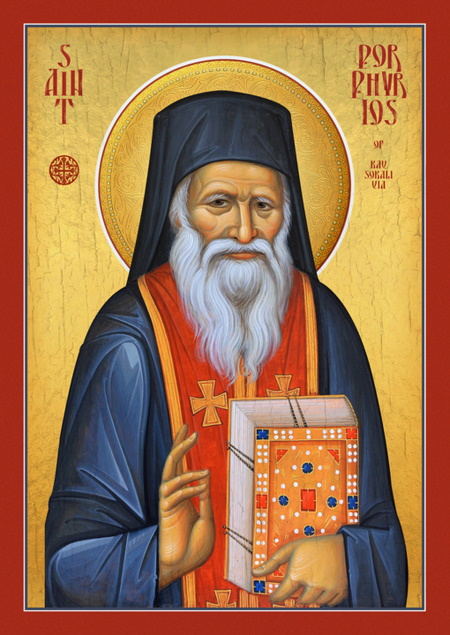 — Yes, elder, I know it.
— Then say it.
—"We celebrate the slaying of death, the destroying of hell, the beginning of another way of life that is eternal. And leaping for joy, we sing a hymn to the Cause, the only blessed and most glorious God of our fathers."
— Do you understand it?
— Certainly I understand it.
I thought that he was asking me for a translation into modern Greek.
The Elder then waved his hand dismissively saying,
— Little George, you didn't understand anything at all! You said it quickly like a chanter in a hurry. Listen to what awesome things are said in this hymn: Through Christ and His resurrection, we do not get across a river, a gorge, a canal, a lake, or even the Red Sea. We have moved across an abyss that no human being could cross on his own. Ages came and went with the world waiting for this Pascha, for this passage. Our Christ passed from death to life! That's why today "we celebrate the slaying of death, the destroying of hell." Death is no more. We celebrate today "the beginning of another way of life that is eternal," a life with Him.
Speaking with enthusiasm and conviction, the Elder was clearly moved. The elder paused and continued more energetically:
— Now there is no more chaos, no more death, no more slaying, no more Hell. Now everything is joy, thanks to the resurrection of our Christ. Human nature is resurrected with Him. Now we too can rise again that we might live with Him eternally … What bliss is contained in the Resurrection! "And leaping for joy, we sing a hymn to the Cause." Have you seen how young goats now in the spring frolic on the green grass? They drink some of their mother's milk and then prance about leaping for joy, and so do we celebrating the ineffable joy of the resurrection of our Lord.
He then stopped speaking. Pure joy was now in the air. And the elder continued,
— Can I give you some advice? In every sorrow, with every failure, in anything that causes you pain, collect yourself for half a minute and slowly say this hymn. Then, you will see that the most important thing in your life and in the life of the entire universe has already been accomplished with the resurrection of Christ. It is our salvation. And then, you realize that all our setbacks are so insignificant, that you don't need to allow them to spoil your mood.
— St. Porphyrios, Wounded by Love

About the Author

St. Porphyrios was an Athonite hieromonk known for his gifts of spiritual discernment. He was born in the little village of St. John Karystia, in the province of Evia. He became a monk at the age or fourteen of fifteen and was tonsured with his monastic name of Nikitas. Forced by pleurisy to depart the Holy Mountain, he returned to his birthplace, where he was unexpectedly elevated to the priesthood at the age of 21 by Porphyrios III, Archbishop of Mount Sinai and Raithu.

With the outbreak of World War II he became a hospital chaplain in Athens, in which post he continued for three decades (1940-1970).His later years were devoted to the construction of the Holy Convent of the Transfiguration of the Savior. After 1984 he returned to Mount Athos, occupying the same cell which he had earlier in life been forced to abandon.

Through his role as spiritual father, Elder Porphyrios became known to an ever-wider circle of Orthodox followers. Several compilations of stories and sayings attributed to him have been published.