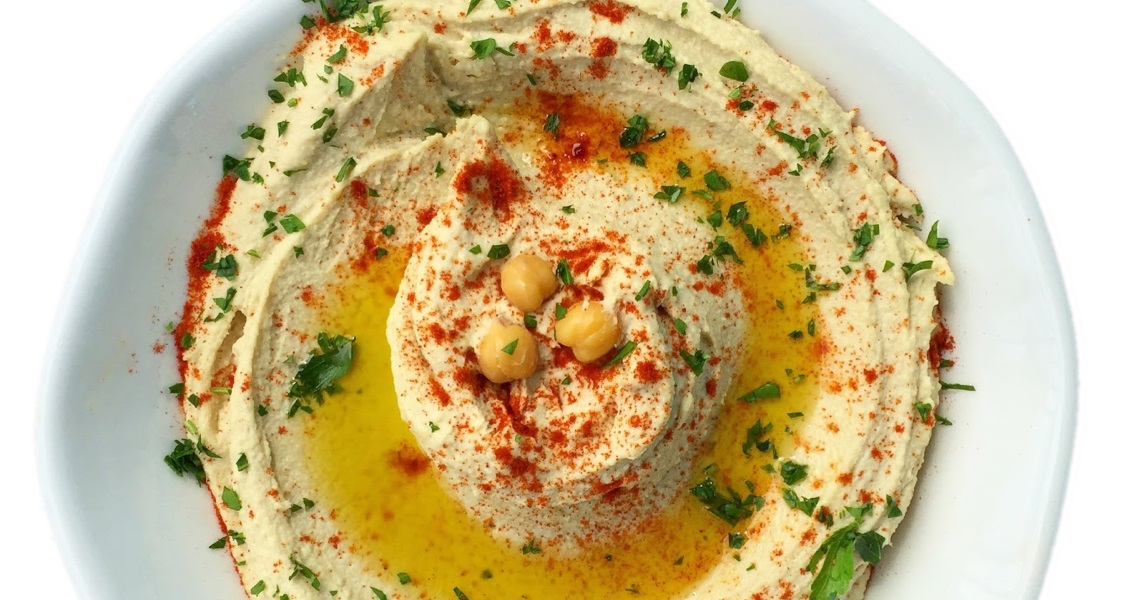 Hummus is a characteristic dish of the Eastern Mediterranean, common from Greece through the Middle East and into Northern Africa. It is an ancient dish, dating to at least the twelfth century, and when made with an oil other than olive oil (avocado or grape-seed oil will do nicely) a staple of Orthodox fasting cuisine. The recipe here is from a family who emigrated to the U.S. from Jerusalem's Old City, where their roots go back untold generations.
Ingredients:
2 cups dried chickpeas (garbanzo beans) 
2-4 cups garlic, minced
1/2 teaspoon salt 
juice of 2 lemons 
1/4 cup tahini cumin
extra virgin olive oil 
chopped parsley 
red pepper (optional)
paprika (optional) 
Directions:
Soak 2 cups of chickpeas in water for 8-9 hrs. 
Bring a big pot with fresh water to a boil and pour in the chickpeas. Let boil for at least 2 hrs. 
Assemble 2-4 cloves of garlic, 1/2 tsp. of salt , juice of 2 lemons , and 1/4 cup of tahini. 
Put all the ingredients in the food processor and add 1/2 a cup of the boiled water, or as much as you need make it thicker or thinner according to your preference. Mix until it becomes like a paste. 
Pour it in a plate then garnish it with some cumin, chopped parsley and some EVOO-extra virgin olive oil. 
Add a sprinkle of red pepper (for a bit of heat) or paprika (for color) if you like.
Use it as a dip or eat it with pita bread. We love to drink hot tea and fresh mint when we eat this dish.

About the Author

Mrs. Suha Mansour, St Nicholas Antiochian Orthodox Church, St Petersburg, FL.