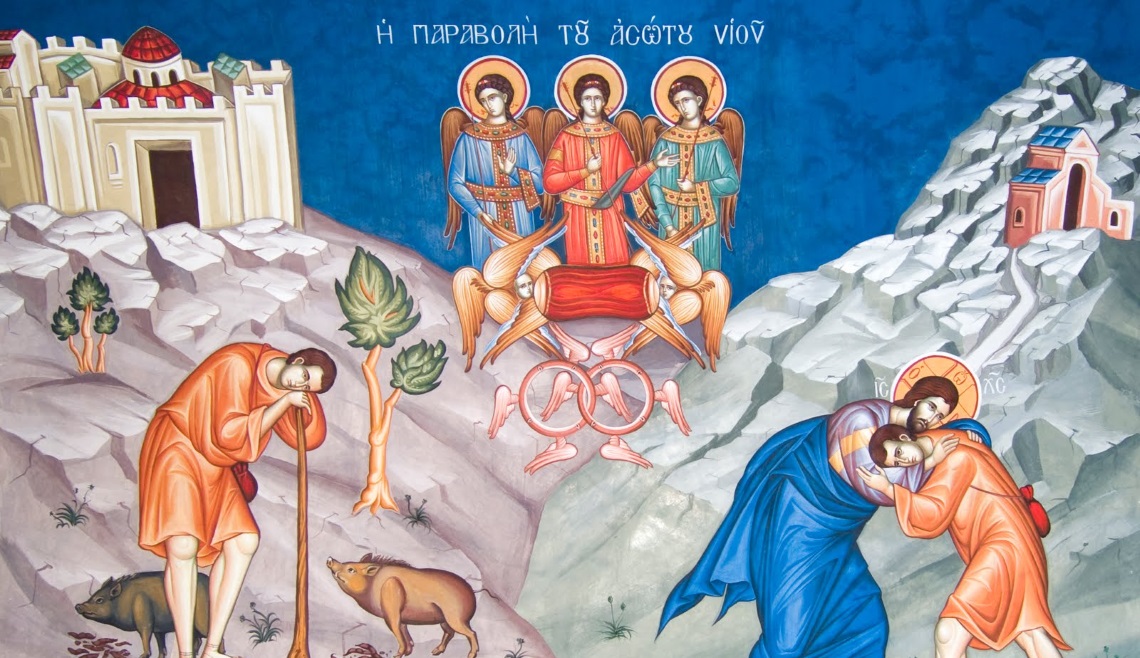 By: Archpriest Alexander F. C. Webster, PhD
Holy Trinity Monastery Cathedral, Jordanville, NY
February 24, 2019
The parable of the prodigal son is one of the most remarkable stories in all of world literature. We might even call it the greatest "short story" ever told: only 22 biblical verses in all! That it was, in fact, told by our Lord Jesus Christ Himself means it can claim divine authority as well as human insight.
Despite its brevity, this parable offers the key ingredients of a memorable narrative: three key "characters" (the father and his two sons), two distinct "settings" (the family home and "a far country" not specified), and a dramatic plot. The parable is also rich with multiple meanings. But perhaps the most powerful, encouraging message may be summarized in just four words: "It's never too late!"
We live today in a fatalistic society. Never mind our frantic pursuit of opportunity, new challenges, new adventures, new ideas, new technologies. For too many of us, our collective and individual progress seems to be thwarted by a helplessness before the seemingly inevitable twists of fate.
How many of us here today (no need to raise your hands!) believe that, when "your number is up," why…your number is up? Some time ago I heard a comedienne say her mother believes in that number business. Don't worry about taking an airplane, her mom would say: if your number is up, then that's life, que sera sera, it's predestined. That mom sounded like a combination of Frank Sinatra, Doris Day, and St. Augustine of Hippo! But there's another possibility, the comedienne observed, when you take an airplane: What if the pilot's "number is up," not yours? (Think about that for a moment!)
There's still another possibility: that all of this "number" stuff is sheer nonsense, that God doesn't cause airplane crashes, that fate doesn't govern the universe, that we control own destinies (with God's grace), and that we are responsible for our decisions and actions.
The prodigal son knew that. Although he had "squandered his property in loose living" in "a far country" away from his father's home [Luke 15:13, RSV], he was still able to come to his senses. The prodigal son soon realized he had made a terrible mess of his life…and was willing and able…to admit it.
It's never too late for us to admit our faults and change our lives: never too late!
In a nostalgic mood three years ago, I decided to search online for photos of two of my boyhood homes in Jersey City, New Jersey: a first-floor apartment at 354 Bergen Avenue (a 24-unit 4-story walk-up apartment building) and a fourth-floor apartment at 116 Bergen Avenue (another 24-unit 4-story walk-up). What I discovered was shocking and saddening. Raging fires had recently gutted the floor above the first apartment and the floor below the second apartment. No doubt my family's homes for eleven years of my young life were burned beyond recognition.
I was reminded at once of the title of Thomas Wolfe's novel in 1940: You Can't Go Home Again. Time and place do not stand still like pleasant photographs from the past. You can never recapture the past, especially when that past in one's memory has been displaced by a present unpleasant reality. Innocence lost can never be regained. All that remains are faded memories of people and places and times—nostalgic longings that slowly dim like dying embers of one's heart and mind. You can't go home again, so be resigned to where you are, and who you are, and let the past be, indeed, past.
But I was wrong…and Thomas Wolfe was wrong! Our true home is not some fondly remembered neighborhood, or a house, or a piece of land we call "real" estate. Our true home is the very source of our life and our final destiny—and, not surprisingly, they are one and the same, beginning and end, Alpha and Omega: the Lord God Himself!
The prodigal son in our Lord's parable somehow knew that! Although he had abandoned his father and his home for a life of self-indulgence and sin, he was still able to turn to his earthly father when all else was lost.
The prodigal son realized that he always had a home with his earthly father. Citing the prodigal son's humble confession to his father when he returns at last—"Father, I have sinned against heaven and before you; I am no longer worthy to be called your son; treat me as one of your hired servants" [Luke 15:18-19, RSV]—St. Athanasios of Alexandria waxed eloquent:
When he confesses like that, he will be considered worthy of more than that for which he prayed. His father neither takes him in like a hired servant nor treats him like a stranger. Oh no, he kisses him as a son. He accepts him as a dead man come back to life again. He counts him worthy of the divine feast and gives him the precious garment he once wore.

Now there is singing and joy in the father's home. What happened is the result of the Father's grace and loving kindness. Not only does he bring his son back from death, but also through the Spirit he clearly shows his grace. To replace corruption, he clothes him with an incorruptible robe. To satisfy hunger, he kills the fatted calf. The Father provides shoes for his feet so that he will not travel far away again. Most wonderful of all, he puts a divine signet ring upon his hand. By all these things, he begets him anew in the image of the glory of Christ. (Festal Letter 7, in Ancient Christian Commentary on Scripture: New Testament, vol. III, p. 251)
It's never too late for us to go home again—truly "home"! We self-indulgent, sinful Christians always have a home with our heavenly Father. It's never too late!
One of the off-putting features of Charles Dickens' otherwise magnificent story, A Christmas Carol, is the late-night visit of the ghost of Jacob Marley to Ebenezer Scrooge. Marley is shackled to a very long chain with links forged during his long, selfish, miserly life on earth. The implication is clear that we may be so weighed down by our past sins that it's impossible to escape. How many of us are truly skeptical about death-bed conversions? How many of us really doubt whether a long life of sinful self-indulgence and neglect of the poor and "the least among us" can be redeemed, washed away by a moment of genuine repentance and trust in the saving work of our Lord Jesus Christ?
Ah! But remember, dear friends, what the spirit of Christmas yet-to-come showed Ebenezer Scrooge was not "the shadows of things that must be," but rather "the shadows of things that may be only"! Scrooge had his late-in-life conversion, indeed!
So did the prodigal son in our Lord's parable.
The prodigal son knew…he had "sinned against heaven" [Luke 15:18] and against his father.
He knew…he was no longer worthy to be called his father's son.
But he also knew…that there's no statute of limitations on forgiveness.
The prodigal son was able to humble himself and to ask forgiveness from his very loving, very compassionate, and very forgiving father.
It's never too late for us to ask forgiveness and to be forgiven by our heavenly Father! Never too late!
There is no sin so great, no one of us so evil, no time limit to God's patience…such that any one of us need be spiritually homeless forever, like aimless drifters in a cold, cruel, meaningless world.
God the Father is calling each of us home today. St. Ambrose of Milan in the fourth century revealed how we might emulate the prodigal son:
Although God knows all things, he awaits the words of your confession…Confess, so that Christ may rather intercede for you, he whom we have as an advocate with the Father. Confess, so that the church may pray for you and that the people may weep for you. Do not fear that perhaps you might not receive. The advocate promises pardon. The patron offers grace. The defender promises reconciliation with the Father's good will to you. Believe because it is the truth. (Exposition of the Gospel of Luke 7.224-25, in Ancient Christian Commentary on Scripture: New Testament, vol. III, p. 250)
It's past time to take that first step on the road back to our true home and to confess that one sin that we've been too ashamed to reveal to our spiritual father.
It's time for us to say, with the prodigal son, "Father, I have sinned against heaven and against you"!
It's time for us to throw ourselves down in repentance before our Father in heaven and to hear His comforting voice declare: "[F]or this my son was dead, and is alive again; he was lost, and is found"! [Luke 15:24, RSV]
Amen.

About the Author

Archpriest Alexander F. C. Webster, PhD, is a retired U.S. Army Chaplain (Colonel), author of four books on Orthodox social ethics, and Dean & Professor of Moral Theology at Holy Trinity Orthodox Seminary in Jordanville, New York.