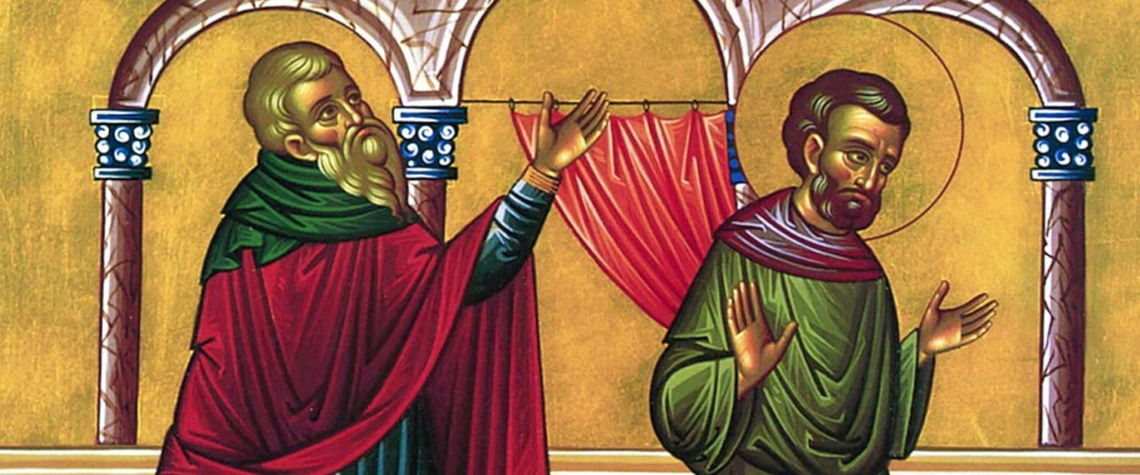 "Not as the world gives, do I give unto you" (John 14:27). But does this promise of our Lord apply not only to His peace, but to other blessings as well. Could it be, for example, that the self-confidence of a Christian needs to be very different from the self-confidence that the world offers us? We endlessly seek approval from others, not just in direct interactions, but in poring over responses on social media, avid to fill ourselves up with positive appraisals and perceptions of ourselves by others.
However, we learn all too quickly that this kind of self-confidence is fragile and uncertain, and that it is sure to fail us when we need it most. But what if we looked in the opposite direction, seeking not to fill ourselves up but to empty ourselves out, to be humble, to be…nothing? This is precisely the prescription offered by Archbishop Christophoros in a sermon recorded in February 2019, on the Sunday of the Publican and the Pharisee (at the beginning of the Lenten Triodion) in the Greek Orthodox Archdiocese of Amman, Jordan.

By Archbishop Christophoros Atallah
Blessed is the Christian who realizes that he or she is nothing! Only when you realize that you are nothing, through humility, can you understand the verse of the Bible in which Christ said: "without Me you can do nothing." (John 15:5)
It's noticeable that we worry a lot; we get saddened and troubled a lot, but after the hard days pass, after our sicknesses and hardships pass, we look back and wonder: "Why did we make this much of a drama of it? It wasn't worthy." Why, my children? Because Christ is not occupying all of us, He is occupying only a part of us. Yet His commandment is clear: "you shall love the Lord your God with all your heart and with all your soul and with all your mind." (Matthew 22:37)
Our Lord wants the entirety of us, not just a part. If just a part then you can't meet Him. He wants us fully. His commandment is clear: His first commandment which He wrote with His finger on the two stone tablets which were given to Moses in the Old Testament: "you shall love the Lord you God with all your heart, and with all your soul, and with all your mind." (Deuteronomy 6:5)
Because if it's seen from a psychological view, some people would ask: "How, then, can I have self-confidence?" Of course you should have self-confidence The more you feel you are nothing the more you will be confident in yourself in truth. Because your humility will lead you to self-confidence.
Most people, and we as well, have fake self-confidence, earthly and prideful self-confidence. We don't have spiritual self-confidence, and that's why we become cowards on many occasions. We become cowards during trials, hardships and distress, and this means we don't have self-confidence, but a confidence of another type which is prideful and earthly confidence, which the society gives us. Do you see what a tragic and catastrophic situation we are in? Very far from Christ, from the Church and from spirituality. This is not self-confidence. This is pride and weakness, weak personality and cowardice.
The Lord says in the parable (Luke 18:10-14): "I forgave this publican, he went down justified, rather than the other", rather than the Pharisee. Here we see the judgment of the Lord, the Savior, concerning these two situations. Here we are in front of two situations and a judgment. In front of two situations which people looked at in a certain way, but in the eyes of God they were seen differently. In the eyes of people, they thought the judgment of God would be in a certain way. But the judgment of God was different from what people thought it would be.
The Church and the Holy Fathers of the Church tell us how we – Orthodox Christians, children of the Church – should be in our life. And through the chants of the Church which are read and heard in the Matins prior to Great Lent, the Church asks us to not pray as the Pharisee but as the Publican, meaning our prayer should not be as the one of the Pharisee but as the one of the Publican So, my children, let's pray as the Publican, that is to realize we are nothing and in this way we get closer to God and to our neighbor and to ourselves.
Our relationship with others is very important, and it is here that we can see many flaws. If we look at the Christians of today and make a comparison If we then go back 18 or 19 centuries, we read in books and notice there that what distinguished of characterized Christians was their love to one another.
The pagans used to envy Christians for two things, which were the reason for huge numbers of pagans to join Christianity. Those two things were love and joy. They saw how Christians always loved one another and were always joyful.
However, nowadays, after 20 centuries, let's look at our situation. Let's measure the love not in the bigger communities, but measure it inside our own Christian houses and see the tragic situation. Inside the same house people don't love one another, siblings don't love one another and don't talk to one another. The wife doesn't talk to her mother in law and the mother in law doesn't talk to her daughter in law etc. We are in Babylon. Speaking about joy look at the faces of Christians, how frowned and depressed they look.
So we realize that we are in a crisis and we need to solve it. The church gives us the solution, which is the kind of humble prayer taught by the Gospel Parable of the Publican and the Pharisee. It teaches us how to pray and how to meet with God, with ourselves, and with our neighbor.

English translation by Waad Rabahie, and further edited for Another City.
Source: Orthodox Teaching of the Elders
About the Author

His Eminence Christophoros Atallah is Archbishop of Amman (Jordan) in the Greek Orthodox Church and the President of the Jordan Council of Churches.